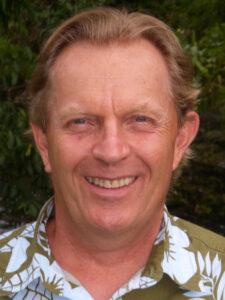 Gary Peterson is a Registered Craniosacral Therapist (RCST®) who has been teaching and practicing energy therapies for over 30 years. He teaches Biodynamic Craniosacral Therapy trainings, Polarity Therapy trainings,  Settling® trainings and Working with Babies classes at various locations around the United States, as well birth surround workshops and other therapeutic work for the nervous system.
His teaching and private practice are inspired by his strong desire to understand and alleviate the deep causes of suffering brought about by stress and trauma to the nervous system. He is especially motivated to help babies, moms and their families to resolve the crippling effects of traumas and stresses that happen during gestation, birth and early neonatal life.
Gary studied Biodynamic Craniosacral Therapy with Franklyn Sills, a pioneer in the field of Craniosacral Biodynamics and author of several books in the field. Gary also studied Prenatal and Birth Therapy with Ray Castellino, himself a pioneer in the field of resolving birth traumas and imprints for babies and their families.
Each private session with Gary features a unique approach to healthcare.
Rather than over-focusing on our clients' symptoms, we at the STAR Institute give our attention to the subtle but dynamic presence of Inherent Health in each person.  In this revolutionary approach, we notice and palpate (touch, sense) your Inherent Health as slow, rhythmic, whole-body movements of expansion and contraction, which we refer to as the Tide. We also follow the Tide as it goes into resting periods which we call stillness. As we track (follow) the Tide in its movement throughout the body, patterns of pain, resistance and trauma are also revealed. We track the interaction of these patterns with the Inherent Health of your system. This interaction of pain patterns and Inherent Health gives rise to a more concentrated level of Health, which we call the Inherent Treatment Plan. This deep intelligence, arising from within you, begins to gently and powerfully resolve the patterns, bringing improvement to a wide range of symptoms and conditions.
Gary's first book, Settling: Simple Ways to Calm Your Nervous System, will be published in soon. This self-help manual gives you a set of vital skills for regulating your nervous system to experience balance and relaxation. Gary and his wife Bonnie have 3 grown children and 2 grandchildren,  and live in Sebastopol, CA.